Nov 21 2014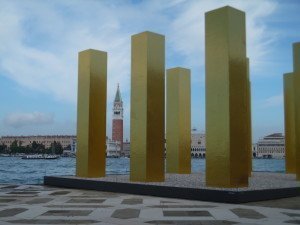 We had a wonderful visit this year, catching up with friends. We were in Venice for the Clooney wedding, sadly, not invited. We met someone who said he saw Brad Pitt and Angelina Jolie at Arsenale, which was our claim to fame; but evidently they were not in Venice but filming elsewhere.
This year was the architecture biennale and it was fun to wonder through the various venues. The glass exhibit at the Cini Foundation was again spectacular. The basic trick is to walk around and keep cognizant of the fact that almost any random palazzo could be the site of an interesting exhibit. Many are free.
I have several restaurant updates. I am including a bit about Rome which I have just started visiting so I'm sticking to the highlights there:
Gelato:
Our former favorite gelateria, near the squero in Dorsodouro, appears to have changed hands and the gelato is now terrible there. As an alternative, I recommend the one in Campo San Vidal. (However, the gelato in Rome at Gelato del Teatro near the piazza Navona was way superior.)
Coffee:
I had always heard that the coffee at San Eustacio near the Pantheon in Rome was terrific. I would say it is in a class by itself. I have never had such a delicious brew. Coffee here is really not to be missed.
In the meantime, in Venice, I am still very partial to Tonolo in San Polo. The coffee is very good and I find the chocolate beignetto irresistible. Stand up only.
Sometimes I like to have a few cichetti for lunch, but otherwise I have become very fond of salads. Both in Rome and in Venice, some salads are delicious, easy on the waistline and easy on the pocketbook.
Lunch:
In Rome, I very much enjoyed lunch at Espressamente near the Pantheon. An example: smoked salmon, a little robiola, mango slices and frisee.
In Venice:
La Piscina on the Zattere has a good selection of salads, some with robust amounts of protein.
Naranzaria, near the Rialto bridge, is a wonderful setting with tasty salads and a somewhat less ambitious menu than in year's past.
Alla Zucca in San Polo (or Santa Croce? never sure) has an amazing vegetable plate which appears to be chef's choice.
Oniga in Campo San Barnaba also has a nice vegetable plate also, but I like Alla Zucca's better.
La Rivista near the Accademia had a salad with a terrific selections of young greens. Service there, however, is a bit problemmatic.
Cipriani in Torcello was interesting but not exactly light on the pocketbook.
Aqua Stanca in Murano had tasty food in a lovely modern setting.
La Favorita on the Lido always has wonderful fresh fish and usually slightly different prepartions than central Venice.
DINNER:
In Rome, where we admittedly never ventured far from our hotel, near the Pantheon, for dinner, our favorite by a lot was Grano. We pretty much worked our way through the imaginative offerings on the menu and enjoyed the food, wine and service.
In Venice:
Antiche Carampane is still our all time favorite and it feels like we are visiting old friends when dining there.
Ai Artisti, our neighborhood place near the Accademia, never disappoints and is an excellent alternative for Mondays when fish is not served.
Do Mori in Cannaregio was new to us this year. Everything was very well prepared with some not-typically-Venetian flavors.
Bepi, not far from the Ca' D'oro, was fun with great appetizers.
Oniga also has a formidable shellfish dish called something like Buccatoro which we really enjoyed. It is a shellfish stew followed by pasta to sop up the soup.
La Riviera  on the Zattere had good food but extremely expensive. If money is no object, you might find it a hoot.
Covino in Castello, an offshoot of Al Covo, served good food but the preciousness was a bit over the top.
Altonella in Giudecca was very disappointing this year. Overpriced and I would say the food was not all that fresh.
Next year's visit to Venice is already booked! The beauty is irresistible and the absence of cars is the icing on the cake.