Aug 21 2008
Venice is divided into 6 districts. San Marco is the district with the highest tourist traffic and the big sites centered around Piazza San Marco (St. Mark's Square).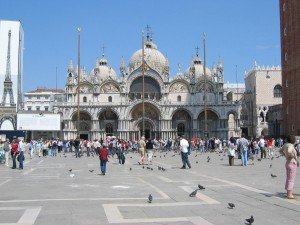 If you are only in Venice for 2 or 3 days, you might want to stay in this district and then walk to the main attractions, battling huge crowds and guided groups as well as long lines during the height of the tourist season. Think Times Square on New Year's eve. The high end shops are in San Marco as well. We avoid restaurants in San Marco; they tend to be either outrageously expensive or have uninspired fare catering to tourists with limited palates.
Dorsoduro, on the other side of the Grand Canal from San Marco, is like the Village in NYC. The Accademia Museum is in this sestiere (district) as well as universities and schools. It is far less crowded than San Marco except during times when classes are dismissed. The campi (squares) have a neighborhood vibrancy with children playing and people chatting while sitting at cafes or on benches. Dorsoduro is bounded on one side by the Grand Canal and on the other by the Giudecca Canal. The Zattere, a wide walk way along the Giudecca Canal, is wonderful for a stroll at any time. I love these lamp posts: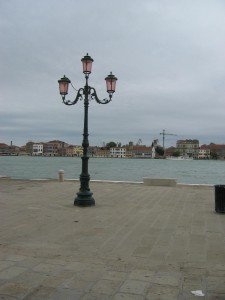 The bacaro (wine bar) on Rio San Trovaso near the bridge is a favorite hangout; it has gotten very popular lately and serves very tasty cicchetti (snacks).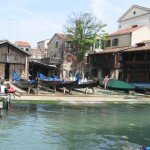 Across the canal from the bacaro is the most colorful working squero (place where gondolas are repaired) in Venice. I frequently like to stop and just watch the work. There is almost always at least one gondola being spruced up.
The restaurant where we always feel most welcome, go most frequently, and almost always have a good light meal is Da Montin; it is very pleasant to sit outside in the arbor. (2012 update: we no longer like the food here.)
The train station is in Cannaregio, but except for the area directly around that station, which is a bit like the area around Penn Station in NY, this large district is mostly residential with a few of my favorite churches (like Santa Maria dei Miracoli and Madonna del Orto)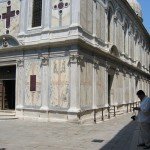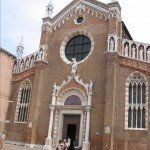 and restaurants (notably Boccadero) [Recent update: I find the 5 euro cover charge exorbitant to have a modest dish of pasta.] The north end of Cannaregio is the Fondamenta Nuove (sometimes spelled Nove) which is a launching place for vaporetti going to many of the other islands (Murano, Burano, Torcello) of Venice. The old Jewish ghetto is also in Cannaregio; the ghetto has a kosher restaurant as well as a few kosher shops. There are also several universities in this district.
Castello is also on the San Marco side of the Grand Canal and is also largely residential, mostly working men and their families and relatively few tourists (except in the part near San Marco).
The Arsenale and the lovely Giardini (gardens) are in Castello as well as the sports arena and children's playground. Think Brooklyn or the Bronx. There are some good restaurant opportunities: Corte Sconta, Alla Testiere, Al Covo. These restaurants can be a bit pricey but are good value; sharing courses is a good idea.
Santa Croce has the bus terminal. The area around Piazzale Roma, the home of the bus terminal is frenetic and somewhat reminiscent of the Port of Authority area.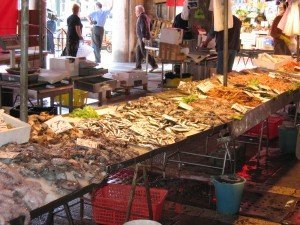 The large outdoor fish and food market stalls are in San Polo. There are also some interesting churches and museums as well as some of our favorite restaurants: Antiche Carampane, Alla Zucca and Naranzaria [2012: now a different restaurant in the same spot — did not try it]. If you are only in Venice for a short time, you might find it difficult to fit a visit to San Polo in your schedule, but if you like open air markets, you will not be disappointed by this one.
Central Venice:
All of the places in these 6 districts can be reached on foot by an able walker. Barring a strike or some civic activity, there are always the vaporetti if you get tired or the water taxis if you don't mind the cost (or the gondolas if you really don't mind the cost).
3 Responses to "Basics: Neighborhoods"
#

noel fair

on 26 Jul 2009 at 2:00 pm

I found the references to nyc neighborhoods very helpful.

#

noel fair

on 12 Sep 2009 at 3:24 pm

Susan,

I am very impressed with your handiwork and quite envious of your travels. I am here visiting Noel. Hope to get in touch with you soon and talk grandma tales.

All the best, Sil Gonzalez

#

Susan Cabral

on 05 Oct 2009 at 3:05 pm

Thank you, Sil. I do hope we can get together soon.
Leave a Reply