Aug 20 2008
Central Venice is comprised of the 6 sestiere (districts) that are all accessible on foot. The nearby islands, while considered part of Venice require a boat for access.
Nearby:
Across the Giudecca Canal is the Giudecca, an island that used to be almost exclusively residential, sort of like Staten Island. There are now two upscale hotels/resorts here with their own boat shuttles to central Venice: Cipriani's and a Hilton. We've gone for coffee or drinks and enjoyed the views and ambience.

There was a favorite art exhibition place that I could not find this year; perhaps it is being overshadowed by the Hilton or just did not have a show when I was there.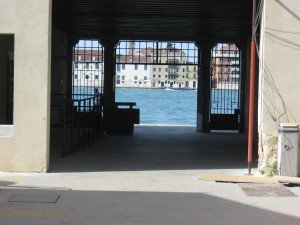 The restaurant Mistra in Giudecca is well worth visiting if you have a bit of an adventurous spirit. To get there, you have to walk through the boatyard (once you get in the boatyard, there are ample signs to show the way) and up a flight of stairs reminiscent of a fire escape. The views from the dining room are spectacular. The picture to the right is a view of the Giudecca Canal from just inside the boatyard. 2010 Update: This restaurant has a new name and perhaps new ownership. The chef was out the day that I went for lunch but a tasty pasta dish was prepared by the owner. 2012 Update: It appears to have moved altogether.
Lido is a long thin island near central Venice that is accessible via frequently running Vaporetti. Besides a few posh resorts and some lesser ones, the Lido has residential neighborhoods that offer pleasant strolling possibilities. It is probably most famous for its beaches on the far shore from central Venice, facing the Adriatic. Thomas Mann's Death in Venice fans will enjoy a walk along the beach.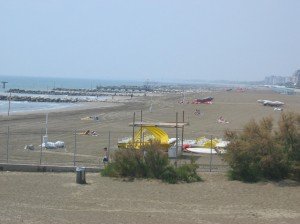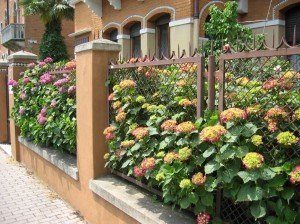 There are cars, motorcycles and busses on the Lido as well as lots of bicycles, so it is not as pedestrian-friendly as central Venice.
This photo below is a picture of the outside of a public bathroom. Note the flowers. How often does one see that? By the way, the public bathrooms in Venice are clean and well maintained. A multi-day vaporetto pass price includes admission to the public bathrooms which otherwise may cost either 50 cents or one euro.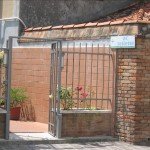 The old Jewish cemetery is also on the Lido and is accessible only during tours which are given alternatively in Italian and English on Sundays midday. The tour makes for an interesting, different kind of experience in Venice.
There is a wonderful restaurant in that general area of the Lido, La Favorita. Dining is outside, the seafood is terrific and wines delicious. I've only been there for lunch and it seems to attract mostly locals. Not cheap but not exorbitant either.
Murano is quite near central Venice where the glass factories and showrooms are found as well as a few interesting stores, churches and a museum. There are also a large number of shops where kitsch abounds.
The glass factories will happily provide free transportation to their sites to see the glass being blown; but beware that you are going to experience a very hard sell which might last a lot longer than you would have wanted. (You will hear other people complaining about having to find their own way back from Murano. I find this to be an empty complaint since it is so much easier and much less stressful to buy a vaporetto ticket for a day or several days and take them whenever you would like.) It is better to take a vaporetto from Fondamenta Nove and see the island on your own.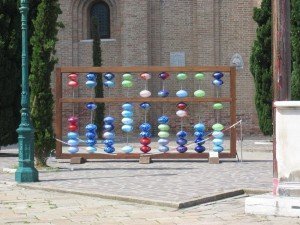 There are frequently large and temporary glass installations on Murano which are not necessarily particularly beautiful or charming but are always impressive in scope.
Our favorite shops are those that show fine modern glass, some quite affordable, some very expensive. We have a friend who bought an elaborate chandelier, had it shipped home, and is delighted with it. My purchases tend to be smaller, but I enjoy looking at them all the time. I particularly like the small reproductions of established modern glass blowers.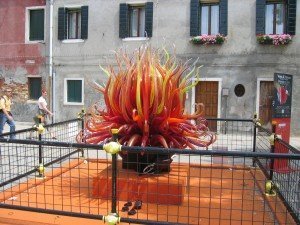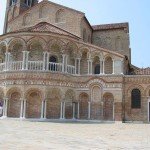 The Romanesque church of San Donato is one of our favorites. It sits in a piazza where it is quite easy to appreciate the architectural details (as opposed to many other churches that are surrounded by other buildings making it a bit more difficult to see the whole edifice.) There's a lovely garden that seems to be closed most of the time, but try to peek in. The floor of the church is wildly colorful and interesting.
Leave a Reply