Aug 05 2008
My favorite place to stay while in Venice is the Pensione Accademia. The hotel is in a great location, near the Accademia bridge, and has lovely gardens as well as crisp, bright (small) rooms. The staff change infrequently and are very helpful. My friends and I have thus far only been there in May and early June (we try to catch the Vogalunga each year, with modest success) which we find ideal because the weather is warm and pleasant and tourist season is not quite in full swing. The Pensione attracts an international crowd with a fair number of people from the European continent and England as well as Americans. We have met some interesting people and enjoyed conversations at breakfast in the dining room or in the front garden and in the lounge before dinner. The garden in back of the main building is our favorite spot especially the swing facing the roses.
Here is a view from my very small, single room. Whenever I book it for the next year, I sense incredulity on the part of the concierge that I really want to stay in that small room again. But I love the view and the price is right. The edge of the front garden is in the foreground and the center is the Grand Canal.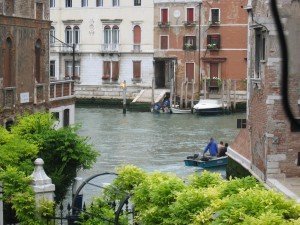 One Response to "Where to Stay"
#

David Frank

on 16 Jun 2010 at 8:59 pm

You're supposed to keep Pensione Accademia a secret!
Leave a Reply